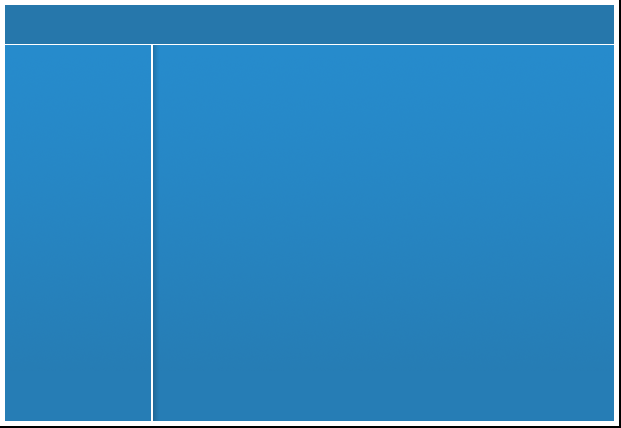 Twyla & I bought our first miniature dachshund in 1985.  "Lady" a red smooth miniature was both as a pet.  At that time, we had no idea that we would be this involved in miniature dachshunds, both breeding and showing.  Even after we bought our second "mini"in 1987, we only had in mind having two as pets.  The second female, a  black and tan smooth, named Vin Nut Megan turned out by luck to be a very high quality females and was one of our foundation females.  She had an outstanding pedigree based on the LoDachs line of mini dachshunds developed by Jim & Billie Ruffel, probably one of the top breeders of their time.   By the early 1990's, we became interested in AKC conformation dog shows and decided this might be fun.  In order to show successfully, we decided that we needed some additional high quality dachshunds, so we purchased a red smooth male from Badgerland Dachshunds and a black and tan smooth male from Jim and Billie Ruffle out of their LoDachs line.  We also purchased a black and tan wirehaired female- Vindachs Gena's Miss Frizz from the Ruffels.   While, Jake was our first AKC champion, the black and tan smooth male Lodachs That's My Boy MS proved to be more important in developing our line of miniatures.   Another important acquisition was"Rici" Ch Taliesin Ricochet Romance MW, red wirehair bred & owned  by Marylou Foro.  Rici has been an important park of our Vindachs line.  The fourth important purchase was Saradachs Vin Crimson Rose MW from Sara Wakeman, which added more important breeding lineage.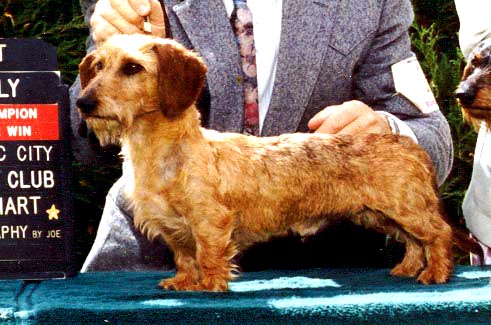 History of Vindachs Miniature Dachshunds

Ch Taliesin Ricochet Romance MW

  Sept  12, 1994 - Nov 1, 2007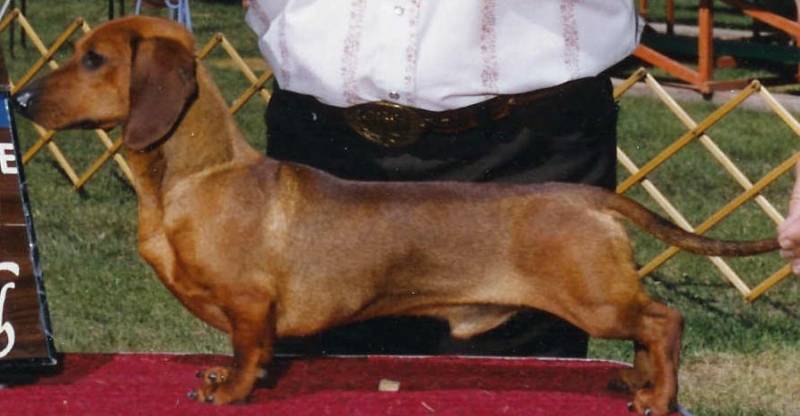 Ch Badgerland Vin Smoky Jake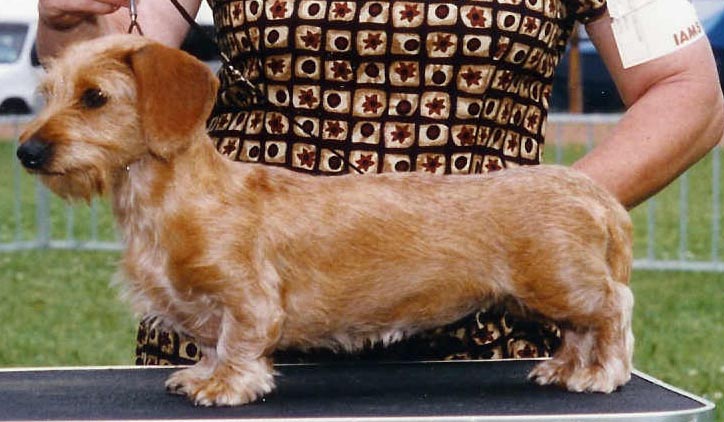 Ch Saradachs Vin Crimson Rose MW.

September 25, 1994